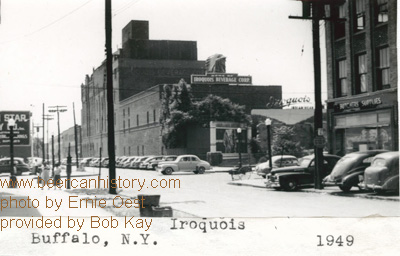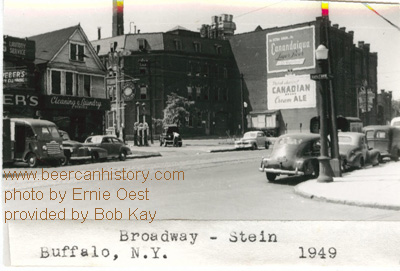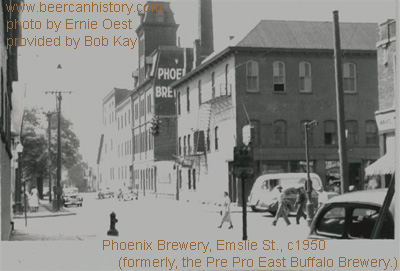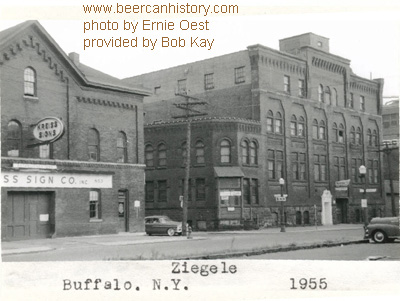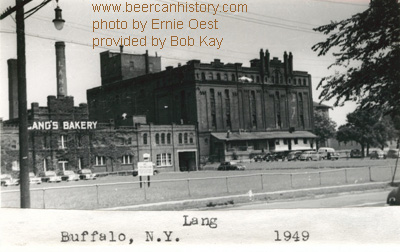 After Prohibition the main breweries that returned to making beer were:
----Gerhard Lang Brewery (the largest in Buffalo before Prohibition, once covering over 30 acres at Best and Jefferson) which lasted until 1949.
and five breweries in East Buffalo, south of Broadway:
----Magnus Beck Brewing Co. which lasted until 1955.
----Phoenix Brewery, which after Prohibition had relocated to the former "East Buffalo Brewery" building, canned beer briefly in the late 1950's before being bought by International Breweries in 1959; which then reportedly used the plant to brew ale briefly.
----Iroquois Beverage Corp., which in 1955 became the lead brewery of five breweries in several states that joined to become International Breweries, Inc. The Pratt St. brewery in Buffalo was a functional 1890's design that operated until 1971, and still has several buildings standing.
----The William Simon Brewery, farther south on Emslie from Phoenix Brewery, canned beer from the 1950's into the later 1960's. The Brewery, lasting until 1972, operated in a better-than-average architecturally detailed 1900-era building that is still standing
----George F. Stein Brewery, which stopped in 1958, had its brewery building demolished in 1959. The Stein location at 797 Broadway, had been the site of a brewery since 1852. (In the 1920's, part of the former brewery land was taken to realign Smith St. at the intersection with Broadway to match with Herman St. going north.
Beer cans:
----During the 1930's Iroquois Beverage canned Iroquois Beer and Ale in two graphic low profile cones, along with an olive drab J-spout during WWII.
The U. S. Beer Cans picture of an Iroquois Half and Half "cone" has been described by New York collector Tom Leo as, "a partial Half and Half sheet that has been rolled." For some years a BCCA collector, William Breen, knew about an "all original" Iroquois Half and Half cone that was held by a former Iroquois employee; got the cone; and in 2011 passed it to a dealer. As of 2011, there is uncertainty, if and how many, dumper examples of the Iroquois Half and Half cone have been found.
After World War II, Iroquois filled a variety of high profile cones and crowntainers. When International Breweries was formed in 1954, four of the breweries began canning beer in a flat top label that has been called "The TV Screen" design for a number of brands (Iroquois, Silver Bar, Frankenmuth, Old Dutch). Also several local brands were canned with their own labels.
----The William Simon Brewery canned beer in the 1950's and 1960's with its "Simon Pure" label.
----The George F. Stein Brewery started canning in the early 1950's and filled six colorful beer and ale cans with the rarest being the early 1950's "Canadian Brand Cream Ale" that has a picture of that brand in a bottle by the seam. In the 1950's and 1960's the Buffalo area saw the importation of many Canadian beers and ales ("dumped" into the Buffalo market?), which was another challenge for Buffalo breweries. Still to be uncovered is whether the Stein Brewery marketed its "Canadian Ale" to sell in Canada or to give Buffalo ale drinkers a "Canadian style" ale that was produced in Buffalo as an alternative to the Canadian imports.
The USBC book shows an example of the Canadian Brand Cream Ale flat top. Tom Leo understands Paul Michel got that Stein's Canadian Ale can from a Buffalo collector. In the Class Book there is also a picture of the Stein's Canadian Ale example but the can's colors look much brighter than the USBC example and uncertain if there is just one or at least two examples.
(Paul Michel was one of the most active 1980's beer can dealers and was located in Buffalo, until he unfortunately died in the later 1980's. While Paul's father was a coin dealer and Paul grew up knowing all the "dealer angles", he was known to convey many rarer cans to on-going collectors at prices that encouraged their continuing buying, rather than pricing a can for only the one buyer who might appear.) Top