(June/2010)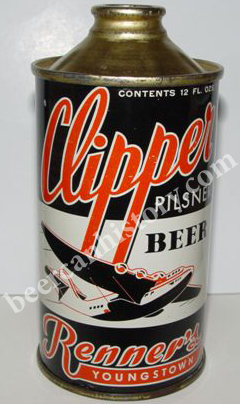 ---John Paul of Cincinnati, BCCA #42, and his wife found another example in a collection they got in 1971 in the Akron area - a "find" that is further described in ABC's of Cans topic, Greater New York Brewery towards the end, under "John Paul and his collection in Cincinnati". John Paul showed it in his winning cone display at Geneva Canvention. Bought by Denny Thayer in the late '70's; to Dick Caughey around 1980 who later sold it to Les Whitman of No. Calif, who then sold it in the early 1990's (?) to a Southern collector.
---Tom Leo example: found in a small Toledo, Ohio collection by Tom Leo in the early 1980's; then to an established Ohio collector; described as around "grade 1-ish."
---Al Kogoy, a well known Penn. breweriana collector, found an c1+ example with the Elmira, New York distributor in a thrift shop and cone was reportedly found in western PA in the '70's; to Dick Anderson, to Dick Caughey, Tom Leo, Hearn, etc. (turns out this can had the cap, but Tom Leo kept the cap in his collection.)
---Jeff Smith is understood to have found one some place as an example was in his collection which was sold to Tony Steffan around 1990; can to Gene DiCicco and then to Tom Waggoner.
---1982 Chicago auction: sold to Dave Starks; then with sale of his collection in 2007, to an established mid-west collector.

---At 2004 BCCA Canvention, a visitor showed up with a Clipper cone and later this example may have gone to a Michigan collector? Rumors of more examples from this source?

other "inside" examples?

---"Outside" and under-the-house examples: several have sold on ebay in past 5 years, including a grade 2 example in 2004 with the Jamestown, NY distributor, and some undetermined number are around, but still scarce.
Clipper cone was a product of Renner Brewing in Youngstown in the late (?) 1930's apparently for a relatively short period of time. Persons following Renner Brewing know more on this brand and circumstances of the label. There are two variations listing a distributor in Jamestown, NY or in Elmira, NY.

----Inside examples: described below are partial backgrounds on seven known on-grade Clipper cones - how many more are around?
---The BCU example was held by Wally Gilbert who got it with the Joe Veselsky collection in 1975. In 2006, the Gilbert Collection was bought by Ted Larsen for resale. This example with the Elmira, New York distributor has been in top shape, and unusually, has stamped on the cone's left side what looks to be a price: 6 59 .