Poth's Beer and Germanic Romanesque Revival brewery architecture:
-----The F. A. Poth Brewing Co. had two metallic Beer can labels: one showing a "triangle" and the other with a "trapezoid"; and two, mostly brown-colored Beer and Ale can labels with white letters.

-----Poth Brewery was a moderate sized, long time Philadelphia brewing operation with its pre-Pro plant in "Brewerytown". During the interval 1936 to 1941 Poth operated at a different location, in the former Class and Nachod Brewing Co. building at 1801 N. 10th St.

----- Importantly, this former brewery building has been well-preserved and is currently a Temple University dormitory. Rich Wagner has a website pabreweryhistorians.tripod.com with detailed pictures of this building as well as many other former brewery buildings in Pennsylvania along with extensive information on others that are still standing across the country.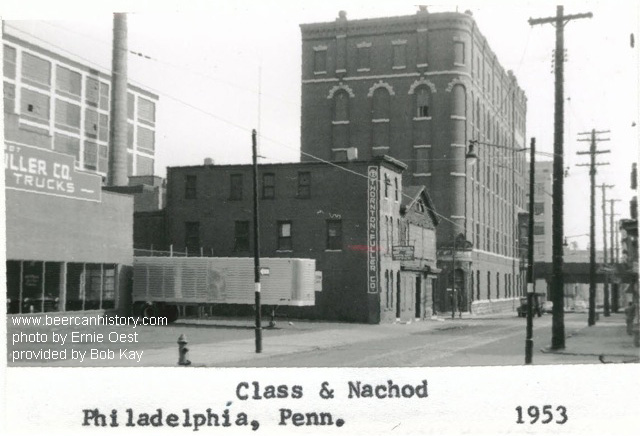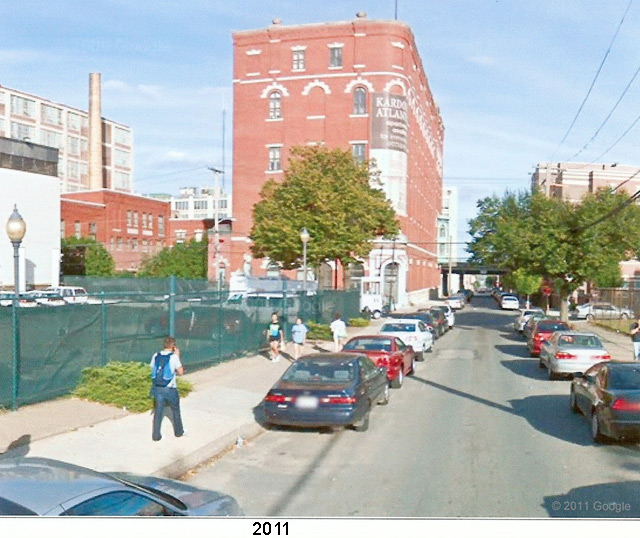 ------The last section below is: "Architectural Details of the Former Poth Brewery".
Since the former Poth Brewery's facade has some of the architectural details seen in many earlier U.S. lager breweries, it can still serve as a partial example of such architecture, much of which now only exists in pictures.
The Romanesque Revival or "Round-Arched" architectural style was seen in many 19th Century U.S. breweries - in addition to numerous other buildings at the time. A non-architect's description is offered of this former brewery's facade. Since almost all of these earlier U.S. lager brewery buildings were connected with German immigrants, the style seen could be called "Germanic Romanesque Revival".

-----Beer cans from the F. A. Poth Brewing have been scarce on-grade, but some of the "brown" beers have been dumped in a number of places. While there has been speculation that the cans may not have been filled at the 1801 N. 10th St. location, long time Pennsylvania beer can collector Larry Handy has reviewed records available at the present, concluding that the four different Poth beer cans were likely filled at this address.

Backgrounds on several of the on-grade can examples of the four varieties known over the years:
--Metallic Beer with triangle:
The Joe Veselsky collection had a "triangle" Beer, which went to Wally Gilbert who sold it in the 1990's. Among a relatively few other on-grade examples, the Garard collection had a top shape "triangle" beer, as did the Stark collection, which may be the same example? Per Marc Tracy, there are some "triangle" Poth's beer cans in collections that previously had been made into lamps, but examples he has seen have been tarnished.
--Metallic Beer with "trapezoid":
A "trapezoid" Poth's beer was in the Stark collection and this variation is believed to be the rarest of the four Poth's cans.
--The 2008 "Maine Auction" group of cans had a few of the brown Poth's Beer in varying conditions around grade 1, which added to several others that have been found earlier.
--The brown Poth's Ales have been scarcer than the brown Beers. Jim Garard in the late 1970's bought several Ales, trading one to Bob Myers and selling another in the 1980 Garard Collection sale for $750; on that sale listing, Ken White wrote: "3 or 4 known".

--The Poth Brewery management apparently tried two marketing approaches with its can labels. The metallic Poth's beer cans have an interesting/colorful design in line with other beer labels by offering reasons to buy the beer - long established brand, description of the beer ingredients, etc. In contrast, the "brown" Poth's cans have "Beer" and "Ale" letters in a white script with "shadow lines" as a good start, but the background color selected was a stool-shade rarely seen for pilsner beers, which likely limited appeal when beer drinkers were looking for a can to purchase.

--Off-grade Poth's cans have been found around in limited numbers, such as several Poth's ales by Steve Potter and other collectors, protected among the leaves in a wooded area of Connecticut.

-----The former F. A. Poth Brewing Co. building at 1801 N. 10th St., Philadelphia, PA:

---Originally this building was the Class and Nachod Brewery. Under that name the building has been listed since 2003 in the National Register of Historic Places with a date of "1912" and an "architectural style" of "Beaux Arts." The front corner entrance has some characteristics of "Beaux Arts", but most of the building's facade reflects architectural details in what could be called the "Germanic Romanesque Revival" style.
While the National Register lists "1912" for the building, Rich Wagner (pabreweryhistorians.tripod.com) has pointed out the year "1911" is in brick at the East-facing roof level.

---Rich Wagner has highlighted this building, and the three others below, as among the better examples of renovation successes of former brewery buildings:
--Bergdoll condominiums at 29th and Parrish in Philadelphia.
--Penn Brewery at 800 Vinial St., Pittsburgh - continues as a brewery in the former Eberhardt and Ober Brewery.
--Stegmaier Brewery in Wilkes Barre.

Elsewhere in the country, while in declining condition and at risk, the former Dubuque Brewing and Malting Co. building at 3000 Jackson in Dubuque, Iowa is a large brewery building example that still has a facade with many architectural details in the Germanic Romanesque Revival style, which show on google "street" view.

---For historical perspective, in the 1860's and 1870's, a number of U.S. lager breweries had characteristics of Rundbogenstil, which was a specific German version of the Romanesque Revival style that was popular in Germany beginning in the early/mid 19th Century - highlighted not only by round-arches, but by elaborate brick work and window/door detailing.

Besides brewery buildings, the Germanic Romanesque Revival style could apply to later 19th Century industrial buildings connected with German immigrants such as parts of the huge Domino sugar refinery in Brooklyn and other New York City buildings, with a few Landmarked ones that are still well preserved:
Former Astor Library (1854) and the Puck Building (1885). (The latter was the publishing location for the Puck humor/satire magazine with its high quality, color lithography.)

-----Architectural Details of the Former Poth Brewery:
---On the first floor facing 10th St., and also on the two highest floors, are many white stone "voussoir" type round-arched window caps and keystoned splayed lintels, along with simpler white stone lentils on the between-floors windows.
---The rustication is low, only going to the water table; stringcourse bands are on two sides at the 2nd floor level and around 3 sides of the building at the top floor level. This top floor also has brick pilasters - two on the 10th St side topped with, what appear to be finials still in place; and six more brick pilasters on the Montgomery st. side.
---For a fenestration contrast along Montgomery St., the building's facade's going away from 10th St has only scattered windows on five floors, but towards the building's eastern-end are three-window-sets on each of 6 floors, along with the always-interesting oriel window connected to several floors. This part of the facade was given an increased concentration of "voussoir" type round-arch window caps and keystoned splayed lentils - all now well preserved.
---At what appears to be the 4th floor level is another stringcourse on two sides. At the roof level, crenellations are seen on several sides with corbelled brickwork.
---The building's most complicated architectural feature is the highly ornamented first floor, corner recessed entrance. The highlight is the corner-curving, white stone swan's neck divided-pediment with an anthemion-type feature in the cartouche location, and an ornamentation-filled tympanum with dentils below.
-The entablature's frieze has missing letters, but probably shows "Atlantic Terminal and Warehouse" - one of the building's several other activities Rich Wagner has found in his research.
-The architrave rests on Corinthian capitals atop two fluted pilasters on each side. The outer entrance itself has a white, stone-surround with, as Rich Walter has highlighted in his website, a lion and a medusa figures within the upper corners.
---On the 10th St. first floor side, is an in-brick Oeil-de-Boeuf style window with above and below white stone keystones.
---Farther north on 10th St. is the separate two story brick "Bottling House" with similar window and exterior designs. For warehouse usage, the round arched style for wagon/truck entrances gave a stronger structural design as compared to using lintels.

-------In conclusion, a former brewery building worth preserving---------
Copyright © 2011-2012 www.beercanhistory.com, All Rights Reserved. Last modified January 8, 2012.