Regal Amber Brewing Company

(May/2010) At the end of 1936, Regal Amber in San Francisco's Mission District was the 7th largest brewer in Calif. The name was changed to Regal Pale Brewing in 1955, and the brewery continued until around 1961.
-----The brewery canned three brands in the 1930's:

Regal Amber Beer, Regal Amber Ale, and Blue Boar Ale - which are among the better solid-colored examples of the classic "1930's look" with "Beer" and "Ale" in letters the same size as the brand name.
Regal Amber Beer has been found in several variations in limited numbers with one of the larger "finds" being 1/2 case of on-grade cans pulled out of a ceiling by a contractor during the remodeling of a house on Alamo Square in 1978, who contacted Bob Myers via a newspaper ad. One of those cans is pictured above.
Regal Amber Ale has been the scarcest of the three brands with one (pictured above) being in the "Rt 50 collection" that was written up in BCCA magazine and a few other on-grade examples have been found.
Blue Boar Ale has also been scarce on-grade and in dumper conditions, but was saved in several collections, such as the "Clovis widow's collection" (pictured above), described in a BCCA magazine article.
-----After World War II, "Regal Pale Beer" became the beer brand which had a sequence of "modernized" can labels. The "Ale" was filled briefly as Regal India Ale in the late 1940's - a can that has been very scarce "on grade" due to the metallic label. Two cleaner examples were located in a Berkeley attic by Ken Harootunian around 2000, one of which is pictured above. A 3rd example was part of the "Calgary Collection", originally in Chico, Calif.
Gene DiCicco, when starting collecting as a child in the late 1940's, picked up a Regal India Ale can on a San Mateo street that was going along the shoreline of the Bay.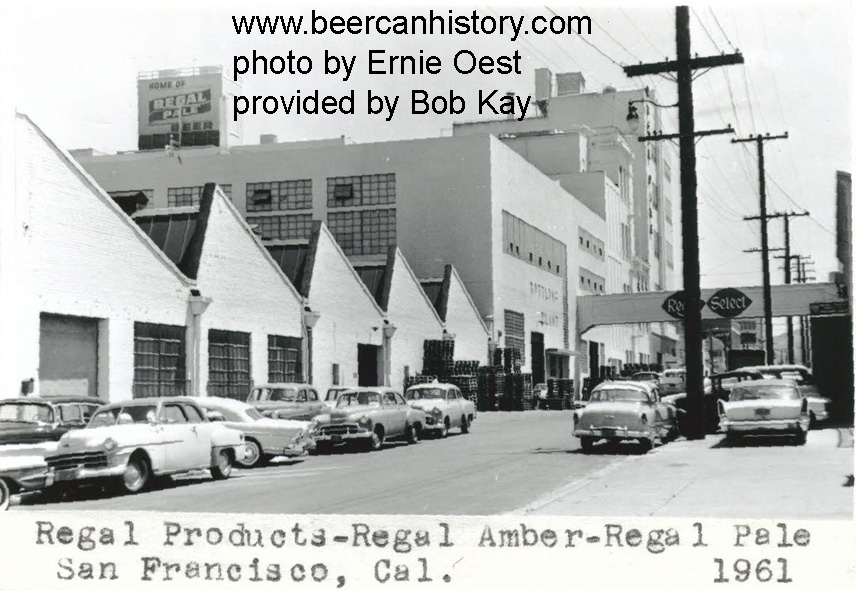 Copyright © 2010-2012 www.beercanhistory.com, All Rights Reserved. Last modified January 8, 2012.