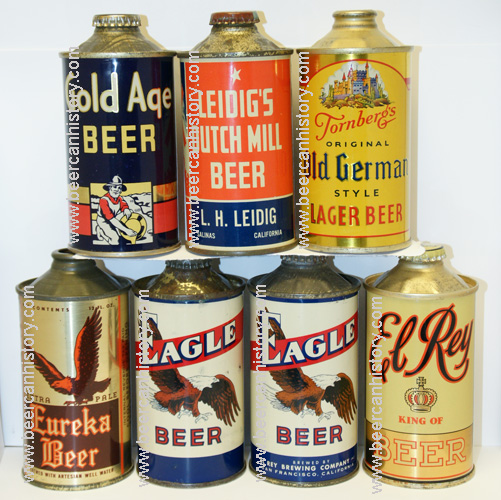 E is for El Rey Brewing: (Sept/2011) El Rey Brewing in San Francisco was on outer Mission St. in the 5000 block and canned beer in one of the most colorful groups of low profile cone tops by any 1930's brewery: three variations of Eagle Beer, two variations of Tornberg's Old German, Leidigs Dutch Mill, Gold Age, and by far the most common brand found by collectors, El Rey Beer. The brewery's name was changed to Albion in July, 1938, and to Eagle in 1941 with the brewery closing in 1942 per detailed records of California breweries kept by a group, California Brewers Association.
(The California Brewers Association had an office in the Russ Building in San Francisco until the later 1970's, but what happened to the group's many records hasn't been learned at this time.)
In December, 1936 of the breweries in California that sold beer in cans, El Rey Brewing was among the smaller ones with sales only ahead of Grace Brothers Los Angeles, Globe Brewing of San Francisco, and Salinas Brewing.
El Rey Beer cans have been located in a number of "finds" including outside California and are only moderately scarce in on grade condition. One of the largest individual "finds" of on grade examples were 8 tarnish free examples in c1/1+ conditions that had been found by a woman in Anaconda, Montana who sold them for $5. each in 1972 to BCCA members Bob Myers and Bob McClure.
In the late 1930's, typically only a small portion of a brewery's beer was canned. As an example of the numbers of cans produced by a small-sized brewery, in the 1970's Don Schmitz (an active San Jose collector of Coca Cola collectibles) said he heard from a former employee that over 4 million cans of El Rey Beer were filled. Even if there are 50, or more?, on-grade El Rey beer cones still around, this number is still quite a small percentage of the total number of cones that were originally filled. Rarity at this level, or often greater, is typical of most cans from "local" breweries operating in the 1930's.
"Eagle" as a brand has been prominently associated with the American brewing industry with at least ten breweries being named "Eagle"; and the bird has been featured in the breweriana from many more breweries.
The pictured grade 1 Eagle example from Albion Brewing (the Eagle cone with the solid blue banner at the front of the can has the Albion Brewing name on the side) was seen in Joe Veselsky's collection as early as September, 1970, and could be the only on-grade example known so far. After Wally Gilbert purchased Joe Veselsky's collection in September, 1975, Wally held the Eagle by Albion for nearly 30 years.
Among the off-grade Eagle cans that have been found, around 2002, 5-6 Eagle-by-Albion cans were reportedly dumped in the Grass Valley, Calif. area. Also a dozen or more of another Eagle cone variation, "withdrawn free", reportedly were found off Highway 50 in the Sierra.
Gold Age Beer cone examples by El Rey Brewing have only been found in limited numbers. Very few beer cans have documentation on the holders/circumstances that allowed a can to be preserved fully going back over 70 years or more. However, such records do exist for a Gold Age Beer cone - another example than the one pictured above in the El Rey group. Dan Baker (BCCA Member #2048) through his contacts, found a Gold Age cone in 2014 that likely has one of the best provenances for any beer can. The granddaughter-in-law of the original purchasers helpfully wrote the 4/27/14 letter below describing well her relatives moving to California from Nebraska after 1929 and adding some background on following years. While in California, they brought a Gold Age Beer "to share". The empty cone was kept in the family until 2014, serving as a "testament to their marriage" and was displayed on the relatives' Anniversary Day.